covid-19 information by Nicole's TLC Cleaning
Let us care for you safety!
Nicole's TLC Cleaning & Covid-19
Thank you so much for your continued support of Nicole's TLC Cleaning. This year has been anything but normal, and it looks like we are heading into another wave of Covid 19 and the ensuing precautions.
We would like to assure you that as an essential business, we will remain open to you. Cleaning is essential, now more than ever. Indoor air quality has a direct effect on your health, and our team is happy to continue to work for you to keep your family and/or staff safe and healthy.
We're also thrilled to announce that all of our cleaning technicians have received their certifications for COVID-19 from the Glisten Academy. We take the health of our staff and clients seriously, and we hope this shows our level of commitment to keeping you safe during these unprecedented times.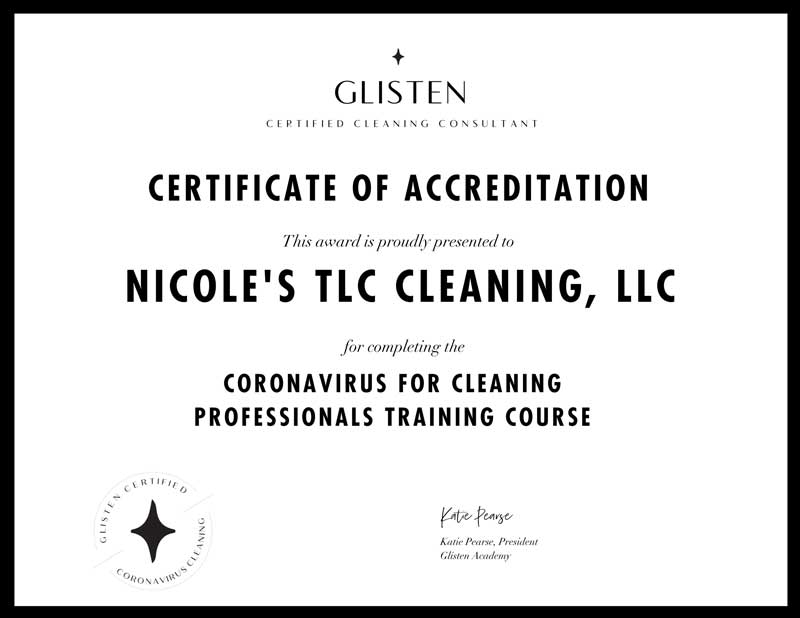 In light of the increasing precautions, we do ask that you help keep us protected as well. If you have experienced any symptoms of Covid 19 within 72 hours prior to your scheduled appointment, please let our staff know so we can reschedule. If you plan to be home during the cleaning, please maintain a 6' distance between yourself and our staff. We ask you to leave the door unlocked, and our staff will knock to make their presence aware, and then let themselves in to help maintain those social distancing guidelines. Our cleaning techs will continue to wear face masks, disposable gloves, and shoe covers.
Out of an abundance of precaution, we will continue not to be providing vacuums until further notice. Please leave your vacuum out by the hallway for our staff to use while in the home. If you do not have a vacuum, please let us know via email so we can make a plan for your home.